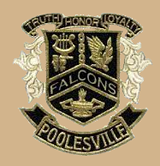 The Poolesville High School Athletic Department, in partnership with the Poolesville High School Booster Club, established the PHS Athletic Hall of Fame.
In 2012, a tradition was begun to recognize and honor the school's most outstanding interscholastic athletes, coaches, championship teams, and significant Booster contributors who have demonstrated exceptional support for our athletes.
Former Indian and Falcon student-athletes from any period in the school's history may be nominated for review by a committee that will select inductees based on their athletic accomplishments while attending Poolesville High School.
Athletic Hall of Fame Nomination Form
2018 Inductees

Gene Phillips
Class of 1972
Gus Johnson
Class of 1972
Randy Clark
Class of 1993
Janelle Thompson
Class of 2004
Maureen DuVall
Class of 2005
Nancy Hopkinson
Coach 1980-1999
Field Hockey, Swimming,
Boys Tennis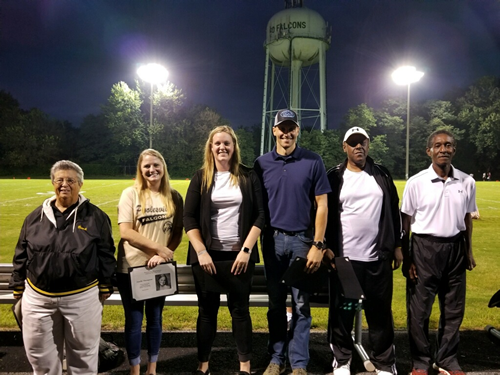 2017 Inductees

Amy Defnet
Class of 2012
Kirk Jackson
Class of 2007
Jon Leong
Swimming & Diving Coach
Lindsay Poss
Class of 2012
Meghan Rose
Class of 2007
2002 Maryland Class 1A
Field Hockey State Co-Champions
Coached by Gina Grubb and Sharon Repass
Manager: Angela Dimopolous

Team Members
Amy Harmon, Courtney Horan, Jamie Abbaticchio, Marianne Lalonde, Holley Marchwicki, Ellen Carson, Abby Johnson, Jenny Langevin, Melissa Martin, Jessica Reynolds, Lauren Lee, Laurel Caywood, Emily Stovicek, Michele Repass, Ashley Loh, Jamie Morningstar, Kiri Jimerson, Kasey Marchwicki, Kellie Ray, Amanda Bettinger, Shannon Ferdock, Christina Cain, Katie Better, Jenn Gost, and Robin Miller

2002 Maryland Class 1A
Girls Soccer State Champions
Coached by Scott Mathias, Robert Tafel,
and Ken Fitzwater

Team Members
Bryann Benton, Caitlin Evans, Andie Shartel, Becky Fielding, Samantha Menke, Kristin Fink, Erin Moore, Cody Worthington, Christina Mann, Skylar Worthington, Gretchen Auer, Stephanie Tafel, Sarah Furr, Annie Sowinski, Samantha Robinson, Emily Rose, Caitlin Beroza, Anna Treado, Stacie Payne, Justine Hoewing, Jenny Smith, Christine Lee, and Megan Turner
2015 Inductees

Dave Miller
Basketball Coach
1968-1981
Billy Thomas
Class of 1980
Olivia Durr
Class of 2009
Cara Chuang
Class of 2010
Larry Hurd, Jr.
Football Coach
2003-2005
Curtiss Belcher
Indoor Track Coach
2001-2013
2014 Inductees

Carla Thomas
Class of 1983
Troy Mason
Class of 1989
Chris Pierce
Class of 1991
Katelyn Poss
Class of 2006
Jeff Oyer
Booster Club President
2009-2012, 2016-2019
Jim Vollmer
Cross Country Coach
1990-2013
Kevin Dorsey
Wrestling Coach 2006-2014
and Booster Club Volunteer
1964 Maryland Class C
Boys Cross Country State Champions
Coached by Bob Boswell

Team Members
Charles Owens, James Parsley, Harold Smith, Bill Hitchens, Wayne Davis, James Schools, and Chris Owens

1966 Maryland Class C
Boys Cross Country State Champions
Coached by Bob Boswell

Team Members
Wayne Davis, Dale Ferril, Jerry Owens, Danny Heger, Harry Owens, Andres Heger, Chris Owens, Managers: Ronald Jackson and Ronnie Randolph

1966 Maryland Class C
Boys Track & Field State Champions
Coached by Bob Boswell

Team Members
Melvin Hebron, Wayne Davis, Arnold Ramey, Donald Ramey, Jerome Schools, Larry Hale, William Helms, Gerald Thomas, Linwood Jenkins, Leon Jones, Chris Owens, James Thomas, and Bobby Nealon

1967 Maryland Class C
Boys Track & Field State Champions
Coached by Bob Boswell

Team Members
Wayne Davis, Chester Harper, Arthur Williams, Ronnie Randolph, Ervin Lee, Ray Grubb, Larry Thomas, Harry Owens, David Lyles, Wayne Owens, Andres Heger, Albert Hall, Milton Moore, John Smith, Jerry Owens, Danny Heger, and Dale Ferril
2013 Inductees

Fran DuVall
Girls Volleyball Coach
1996-2014
Scott Mathias
Class of 1989
Track Coach 1998-2006

Rachel Stream
Class of 2008
Jacqueline Orona
Class of 2007
Gary Ward
Class of 2004
Kjetil Lowe
Class of 1998
Jim Cangiano
Class of 1991
Mike Curtis
Class of 1985
Richard Lyles
Class of 1976
Wayne Owens
Class of 1967
Leonard Ramey
Class of 1963
Louis Naylor
Class of 1963
Bob Cissell
PHS Booster
Bill Moore
Past President
PHS Booster Club
Eric Hansen
"Voice of the Falcons"
2008-2013
1963 Maryland Class C
Boys Basketball State Champions
Coached by Robert Mowen

Team Members
Eugene Hamilton, Bob Lawson, Leonard Ramey, Eddie Sewell, Otho Thompson, Charles Elgin, Charlie Jamison, Bubby Burdette, Steve Johnson, Grant Bell, George Lyles, and Sylvester Prather
2012 Inductees

Roy Selby
Class of 1956
Howard Lyles
Class of 1960
Ellsworth Naylor
Class of 1967
Mike Neville
Class of 1978
Bo Pierce
Class of 1983
Irvin Smith
Class of 1985
Dewey Barnes
Class of 1986
Jake Perkins
Class of 1987
Regina Grubb
Class of 1992
Krista Kennedy
Class of 1998
Jimmy Ward
Class of 2002
Christina Mann
Class of 2003
Josh Funk
Class of 2004
Ashley Loh
Class of 2004
Erin Moore
Class of 2004
Michele Repass
Class of 2004
Vincent Riggs
Class of 2004
Jamie Morningstar
Class of 2005
Ernie Ceccato
Football Coach
1972-1987
Fred Swick
Athletic Director
2006-2009
1962 Maryland Class C
Boys Basketball State Champions
Coached by Robert Mowen

Team Members
Leonard Ramey, Eddie Sewell, Bob Lawson, Ron Magaha, Louis Naylor, Russell Burdette, Danny Yates, Otho Thompson, Charlie Elgin, Charles Johnson, David Johnson, Steve Johnson, Harry King, Charles Jamison, and Sylvester Prather