Welcome
The Poolesville High School Athletic Booster Club is an organization whose primary mission is to raise money to support and supplement the athletic program at PHS. Our student athletes have responded by representing their school in an extraordinary manner — with class, sportsmanship and effort.
As the county school budget continues to tighten, the athletic department is left more and more to fend for itself. Without the continuing support of the Athletic Booster Club, much of the team equipment and facilities improvements could not be done.
Some recent improvements to the athletic facilities include:
Upgrades to the baseball and softball fields including new batting cages and bleachers
Ongoing seasonal turf maintenance of the stadium playing surface and practice fields
Purchase of a state-of-the-art scorers table with electronic scoreboard for the gymnasium
Purchase of a new zero-turn riding mower for the stadium
Backstop netting for use during field hockey, soccer and lacrosse matches
Long jump pit, discus, and shot put pad for track and field
Falcons in the News
Poolesville's Kresslein uses wresting to grapple with brother's passing
Montgomery Sentinel – January 18, 2020

When Xavier Kresslein stepped onto the wrestling mat at the Jan. 10-11 Dorsey Duals at his home gym in Poolesville High School, it was as if the Falcons' senior 170-pounder was wrestling with the vigor of two people. Kresslein's rivals could not stop the power of his strength on display. Kresslein went 10-0 with one forfeit and nailed down eight of his nine pins within the first period as he rose to 32-0 with 28 falls on the year and improved his career victories mark to 140 … read more
Falcons place second at Dorsey Duals
January 11, 2020
The Falcons took home second place out of a field of 11 teams from across Maryland and Virginia at the Fifth Annual Dorsey Duals wrestling tournament on January 11. Middletown was the tournament winner with the Bullis School taking third place. Falcon senior Colin Savage won an individual award as the top wrestler in the upper weight class division.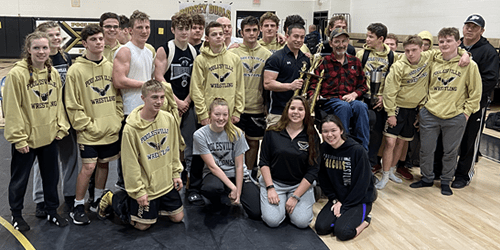 Bocce knocks off Coyotes for first win
January 11, 2020
The Falcon Bocce team came away with their first win of the inaugural season 2-0 over Clarksburg. Picture below are head coach, Tom Lang and players Nico Carillo, Alex Quigley, Alaina Shields, Nicole Davis, Peyton Reed, and Justin Fisher. Not pictured are team members Hallie Maytin, Sean McCue, and Bradyn Bliss.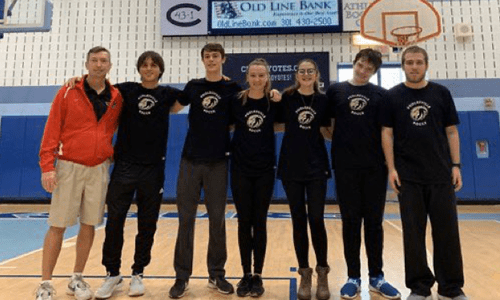 Promoting a Positive Culture
Montgomery County Public Schools (MCPS) is dedicated to promoting a positive culture in our schools, on our athletic teams, and in our community. The following are some resources compiled for the numerous stakeholders committed to providing students with a safe, positive environment in which to learn, grow and progress in.
​