Welcome
The Poolesville High School Athletic Booster Club is an organization whose primary mission is to raise money to support and supplement the athletic program at PHS. Our student athletes have responded by representing their school in an extraordinary manner — with class, sportsmanship and effort.
As the county school budget continues to tighten, the athletic department is left more and more to fend for itself. Without the continuing support of the Athletic Booster Club, much of the team equipment and facilities improvements could not be done.
Some recent improvements to the athletic facilities include:
Upgrades to the baseball and softball fields including new batting cages and bleachers
Ongoing seasonal turf maintenance of the stadium playing surface and practice fields
Purchase of a state-of-the-art scorers table with electronic scoreboard for the gymnasium
Purchase of a new zero-turn riding mower for the stadium
Backstop netting for use during field hockey, soccer and lacrosse matches
Long jump pit, discus, and shot put pad for track and field
Falcons in the News
Hemingway's Five TDs Powers Poolesville Past Winters Mill
SeptembIer 14, 2018

In the Battle of Falcons, the Poolesville Falcons defeated the Winters Mill High School Falcons 45 to 33 on Friday, thanks in large part to Colin Hemingway's five touchdown night.
The Winters Mill Falcons made the 45 mile trip from Westminster in Carroll County to Poolesville on Friday night, and for the fourth straight year the Poolesville Falcons came out on top … read more
Six Inducted into PHS Athletic Hall of Fame
September 14, 2018
Athletic Director Gina Grubb presented certificates to six PHS athletes and coach at the annual Hall of Fame ceremony held at halftime of today's football game versus Winters Mill.
The 2018 Class included: Gene Phillips (1972 Basketball, Soccer, and Baseball), Gus Johnson (1972 Basketball, Soccer), Randy Clark (1993 Soccer, Basketball, and Outdoor Track and Field), Maureen Duvall (2005 Volleyball), Janelle Thompson (2004 Cross Country, Indoor and Outdoor Track and Field), and Coach Nancy Hopkinson (1980 to 1999 Swimming, Field Hockey, Boy's Tennis).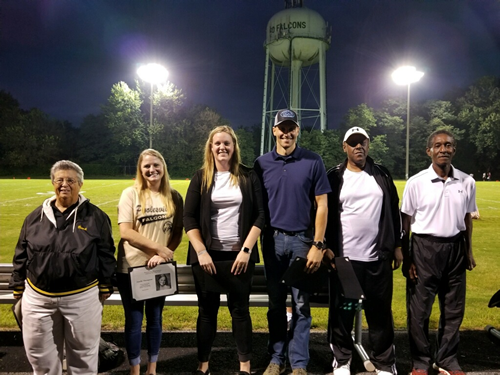 Falcons Fall to Walter Johnson in Two-Field Opener
GermantownPulse.net, September 3, 2018
Like almost every opening week high school football game in Montgomery County, the Poolesville vs. Walter Johnson game was a two-parter, but this one had an added extra twist in that it was finished on a different field from where it started … read more