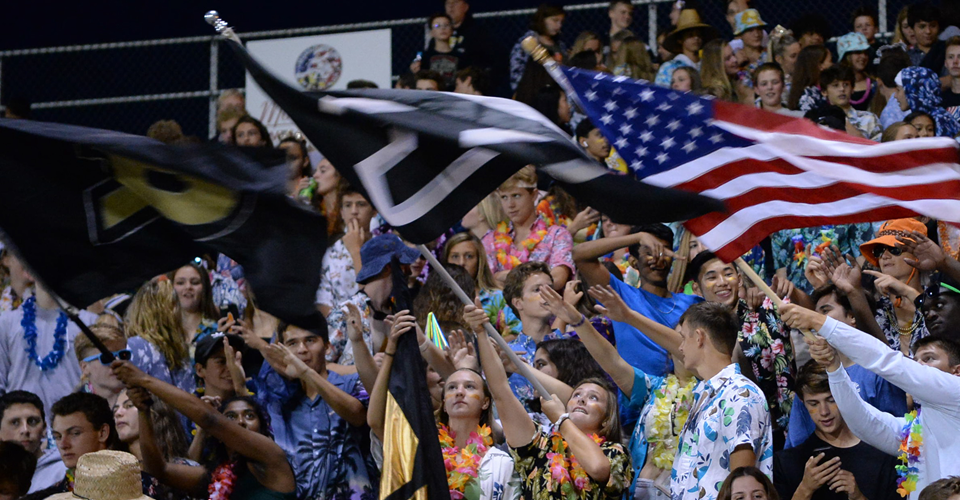 Welcome
The Poolesville High School Athletic Booster Club is an organization whose primary mission is to raise money to support and supplement the athletic program at PHS. Our student-athletes have responded by representing their school in an extraordinary manner — with class, sportsmanship, and effort.
As the county school budget continues to tighten, the athletic department is left more and more to fend for itself. Without the continuing support of the Athletic Booster Club, much of the team equipment and facilities improvements could not be done.
Some recent improvements to the athletic facilities include:
Upgrades to the baseball and softball fields including new batting cages and bleachers
Ongoing seasonal turf maintenance of the stadium playing surface and practice fields
Purchase of a state-of-the-art scorers table with an electronic scoreboard for the gymnasium
Purchase of a new zero-turn riding mower for the stadium
Backstop netting for use during field hockey, soccer, and lacrosse matches
Long jump pit, discus, and shot put pad for track and field
Falcons in the News
PHS Mourns the Passing of Fred Swick
July 1, 2021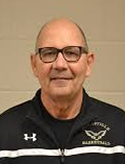 Fred Allen Swick, a beloved PHS teacher, coach, and athletic director passed away at the age of 70 on June 29, 2021 after a courageous seven-year battle with multiple myeloma.
In 1983, he became the head boys basketball coach at PHS. By the time he accepted the Athletic Director position in 2006, he was already the all-time winningest coach in both boys and girls basketball history at the school. He had similar success coaching baseball for 13 years, football for ten years, and softball for four years.
After retiring as the school's Athletic Director, Fred returned to coaching in 2010. His girls basketball teams went 20-4 in 2015-16, 21-4 in 2016-17, 27-0 in 2017-18, 19-5 in 2018-19 and 20-5 in 2019-20. His undefeated team in 2017-18 would give him and Poolesville High School a long-awaited State Championship in a 63-23 win over Queen Anne.
Thanks, Fred for all you did, not just for PHS, but the entire Poolesville community. You will be missed.
New Coaches Named for 2021-2022 Season
June 23, 2021
PHS Athletics is excited to welcome Kamron Azizi as the new boys varsity soccer coach, Debi Haba as the new JV field hockey coach, Steven Lostoski as girl's varsity volleyball coach, Christian Hellwig, boys JV soccer coach, and Sophia Giarratano as varsity cheerleading coach.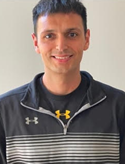 Mr. Azizi is a 2008 graduate of Poolesville High School where he was in the global ecology program, as well as a member of the Falcons 2005 region champion and 2007 Maryland state finalist teams.
Azizi began his coaching career over eight years ago and is a USSF-licensed grassroots coach working towards his USSF-D license. His experience includes local soccer academies, personal and team skills training, as well as the National Intramural-Recreational Sports Association during his time at the University of Maryland-Baltimore County.
When asked to say a few words about being hired for this position he stated, "I am excited for my return to PHS to share my passion for the game with the next generation of student-athletes and continue the success of the boys varsity soccer program."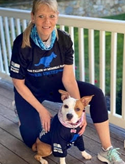 Ms. Haba is a graduate of Rockville High School and the University of Maryland where she played field hockey. She has worked in law enforcement for over 30 years and is now a certified NASM trainer and nutrition coach. She loves dogs, Crossfit, everything health and fitness, muscle cars, and friends and family. She also volunteers with the french bulldog, Spider, at the National Therapy Dog Association.
When asked to say a few words about being hired, she stated, "I am super excited to become a part of the PHS family!"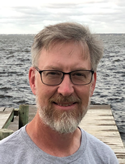 Mr. Lostoski graduated from Churchill High School. He has played volleyball for over 30 years and is certified through USA Volleyball. He has spent the past three years coaching club volleyball with Montgomery Village Sports Association (MVSA). Two of Steve's children, and three nieces/nephews graduated from PHS, so he is familiar with the school.
When asked to say a few words about getting hired for this position he stated, "I have always been impressed with the positive attitude Poolesville students bring to everything they do and the support they receive from the community. I look forward to being a part of the Falcon community and doing my best to make the volleyball program as successful as possible."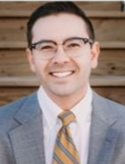 Christian Hellwig is our new JV soccer coach. Mr. Hellwig is a 2009 PHS graduate where he participated in track and field and soccer all four years. He was a member of the 2007 state finalist soccer team. After high school, Christian played soccer at Shepherd University while studying Parks and Recreation with Facilities Management.
When asked to say a few words about getting hired for this position he stated, "I am extremely excited to be joining the Poolesville Falcons Athletics program again after so many years."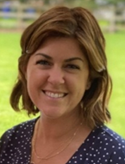 Sophia Giarratano is our new varsity cheerleading coach. Mrs. Giarratano is a 2005 graduate of Poolesville High School. She cheered for Poolesville Athletic Association (PAA) and PHS all four years. She is a licensed cosmetologist and works as a hairstylist in Poolesville and currently resides in Beallsville with her husband, Chris, and their two dogs.
When asked to say a few words about getting hired for this position she stated, "I cannot wait to get back to coaching so I can continue to help the student-athletes achieve their goals."
Tennis Duo Earns State Title
June 19, 2021

Robert Xu and Jeeva Padmanabhan played 80 games as a doubles team — and won 72 of them for an astonishing 90% win percentage. They improved as a team as the tournament went on, and it culminated with winning their final 12 games of the boy's Class 2A state doubles tennis championship for a 6-1, 6-0 victory.
The boys and girls combined team placed second to state champion Hereford, 75 to 65.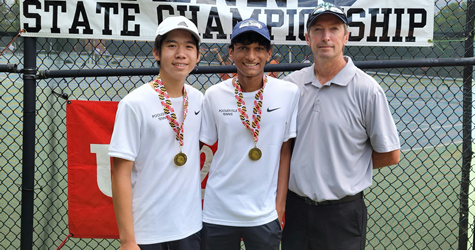 Tennis Captures Regional Title
June 14, 2021

The Class 2A West Regional Tennis Tournament ended today and the Falcons won the title with 43 points, winning four of the five finals. Liberty finished second with 25 points, with Century in third place with 18 points.
Today's winners moving on to the state tournament are Boys Singles, Jae Yi (Poolesville) defeated Amerault (Century) 6-4, 7-5; Girls Singles, Angie Zhao (Poolesville) defeated Johnson (Liberty) 6-0, 6-1; Boys Doubles, Robert Xu/Jeeva Padmanabhan (Poolesville) defeated Murphy/Bellows (Liberty) 6-1, 6-4; Girls Doubles, Suzy Xu/Kaviya Kandaswamy (Poolesville) defeated Haggerty/Coulson (Liberty) 6-3, 6-3; Mixed Doubles, DeLawter/DeLawter (Century) defeated Shriya Yavasani/Zihan Ahmed (Poolesville) 6-2, 6-0.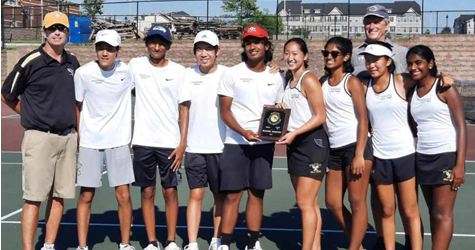 Outstanding Athletic Achievement Awards Announced
June 8, 2021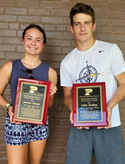 Congratulations to seniors Jessica Mense and Aden Godsey for receiving the 2021 PHS Outstanding Athletic Achievement Award. The pair were honored by coaches and teammates for their positive impact on their sports demonstrating outstanding leadership, good sportsmanship, and a commitment to competing at the highest level.

Jessica played lacrosse and field hockey all four years while Aden participated in football, wrestling, and lacrosse.
Thank you for your leadership, dedication, and commitment to our athletic program!
College-Bound Falcons
May 26, 2020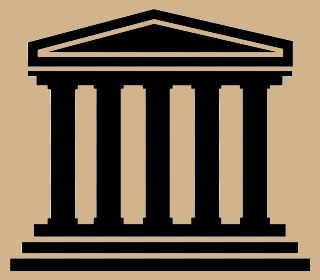 Four of our senior athletes announced their intention to play at the collegiate level. Pictured below are Stevie Orisini (Baseball, Frederick Community College), Colleen Hueting (Softball, Susquehanna University), Ainsley Barger (Volleyball, Hood College), and Mackenzie Magaha (Basketball, Montgomery College).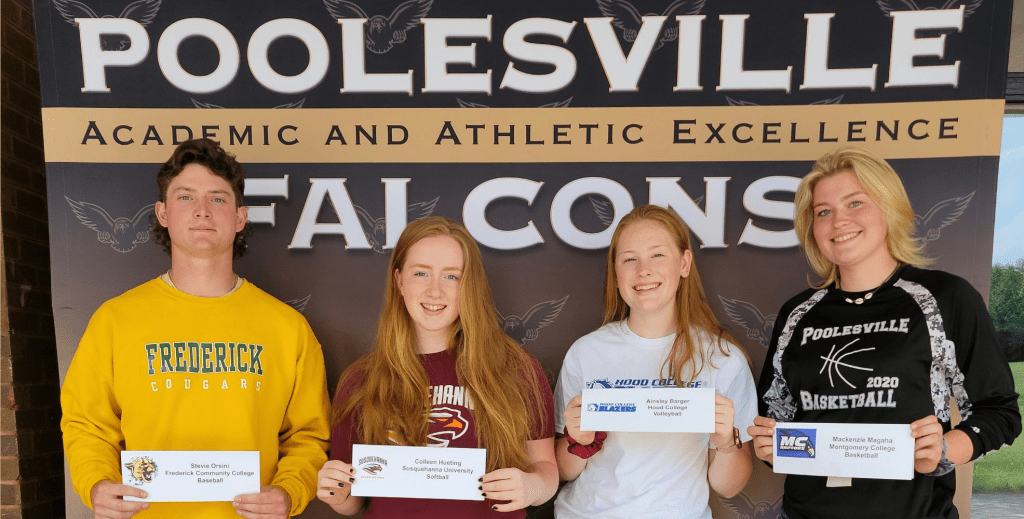 Promoting a Positive Culture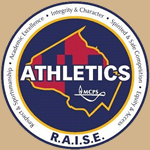 Montgomery County Public Schools is dedicated to promoting a positive culture in our schools, on our athletic teams, and in our community. The following are some resources compiled for the numerous stakeholders committed to providing students with a safe, positive environment in which to learn, grow, and progress.