Welcome
The Poolesville High School Athletic Booster Club is an organization whose primary mission is to raise money to support and supplement the athletic program at PHS. Our student athletes have responded by representing their school in an extraordinary manner — with class, sportsmanship and effort.
As the county school budget continues to tighten, the athletic department is left more and more to fend for itself. Without the continuing support of the Athletic Booster Club, much of the team equipment and facilities improvements could not be done.
Some recent improvements to the athletic facilities include:
Upgrades to the baseball and softball fields including new batting cages and bleachers
Ongoing seasonal turf maintenance of the stadium playing surface and practice fields
Purchase of a state-of-the-art scorers table with electronic scoreboard for the gymnasium
Purchase of a new zero-turn riding mower for the stadium
Backstop netting for use during field hockey, soccer and lacrosse matches
Long jump pit, discus, and shot put pad for track and field
Falcons in the News
Pair named to Washington Post spring All-Met team
June 10, 2019
Casandra Maier, a senior first baseman for softball coach Laurie Wohnhas' 10-7 Falcons, and junior baseball 1B/Pitcher Luke Trythall who led coach Steve Orsini's squad to a 9-9 record were named honorable mentions to the Washington Post All-Met teams for Spring 2019.
Five seniors honored at annual awards night ceremony
May 21, 2019
Congratulations to the following seniors for their outstanding contributions to Falcons athletics.
Alex Carbonell
Male
Athlete of the Year
2019 State Wrestling Champion

Nandini Satsangi
Female
Athlete of the Year
2019 State Track Champion

Nick Beaton
Jake Perkins Memorial
Scholarship Recipient

Gwen Boe
Jake Perkins Memorial
Scholarship Recipient

Rachel Bupp
Above and Beyond
Athletic Award Recipient
Nazzaro named new head football coach
May 10, 2019
The Poolesville High School Athletic Department and Administration proudly announces the naming of our new head football coach, Anthony Nazzaro. Coach Nazzaro, currently a Physical Education teacher at Northwood High School, has been coaching football in the county for 21 years at Magruder, Blake and currently at Sherwood High School … Press Release
Six Falcons sign National Letters of Intent
May 10, 2019
Pictured at today's signing with their are (left to right), Nandini Satsangi (Cross Country and Track & Field, University of Minnesota), Clark Trone (Lacrosse, Newberry College), Ethan Gaddis (Football, Christopher Newport University), Nick Beaton (Football, Waynesburg University), Ben Miller (Football, Waynesburg University), and Andrew Tarus (Soccer, Salem International University).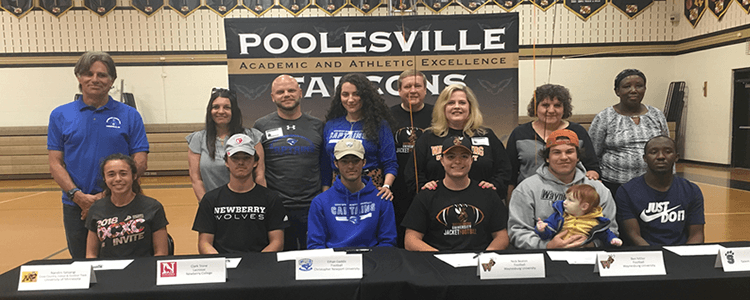 Promoting a Positive Culture
Montgomery County Public Schools (MCPS) is dedicated to promoting a positive culture in our schools, on our athletic teams and in our community. The following are some resources compiled for the numerous stakeholders committed to providing our students with a safe, positive environment to learn, grow and progress in.