Welcome
The Poolesville High School Athletic Booster Club is an organization whose primary mission is to raise money to support and supplement the athletic program at PHS. Our student athletes have responded by representing their school in an extraordinary manner — with class, sportsmanship and effort.
As the county school budget continues to tighten, the athletic department is left more and more to fend for itself. Without the continuing support of the Athletic Booster Club, much of the team equipment and facilities improvements could not be done.
Some recent improvements to the athletic facilities include:
Upgrades to the baseball and softball fields including new batting cages and bleachers
Ongoing seasonal turf maintenance of the stadium playing surface and practice fields
Purchase of a state-of-the-art scorers table with electronic scoreboard for the gymnasium
Purchase of a new zero-turn riding mower for the stadium
Backstop netting for use during field hockey, soccer and lacrosse matches
Long jump pit, discus, and shot put pad for track and field
Falcons in the News
No. 4 Poolesville Improves to 20-0 After Blowout Win Over Gaithersburg
Washington Post – February 9, 2018
The 20th straight win started like so many have this year for the No. 4 Poolesville Falcons. Center Erin Green got an easy bucket inside. Their trapping press led to a steal and a layup. Guard Madeleine Thompson knocked down an open three-pointer. Barely two minutes had passed and it was already 7-0 … read more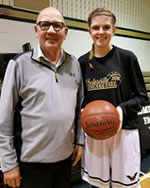 Green Marks a Milestone
January 31, 2018
Senior basketball center Erin Green scored a game-high 21 points in the fourth-ranked Falcons 63-22 win over Rockville, moving her over the 1,000 point mark for her career. Erin, averaging 13.7 point per game this season, joins points leader Lindsay Poss (Class of 2012) and Jamie Morningstar (Class of 2005) for third place in this elite club.

2018 High School Team Spotlight: Poolesville
PrepBaseballReport.com – January 30, 2018

After a 3A state championship run in 2017, the Falcons go into 2018 now moving down to the 2A west.  A majority of the roster returning for this upcoming spring instantly makes the Falcons a contender for the 2A. Leading the way offensively for the Falcons are the big three in SS/RHP Brady Pearre (High Point), 3B Ryan Haddaway (Mount St. Mary's), and C Matt Convers (St. Mary's College of MD) … read more
Falcons Destroy Magruder 60-13 in Girls' Hoops
Montgomery Sentinel – January 28, 2018
Friday night was not a good night for the Magruder Colonels girls' basketball team at all. The Poolesville Falcons came in and showed no mercy as they demonstrated why they're undefeated, now 16-0. To the credit of the Colonels, though, it was as lopsided a match as it could be … read more