Welcome
The Poolesville High School Athletic Booster Club is an organization whose primary mission is to raise money to support and supplement the athletic program at PHS. Our student athletes have responded by representing their school in an extraordinary manner — with class, sportsmanship and effort.
As the county school budget continues to tighten, the athletic department is left more and more to fend for itself. Without the continuing support of the Athletic Booster Club, much of the team equipment and facilities improvements could not be done.
Some recent improvements to the athletic facilities include:
Upgrades to the baseball and softball fields including new batting cages and bleachers
Ongoing seasonal turf maintenance of the stadium playing surface and practice fields
Purchase of a state-of-the-art scorers table with electronic scoreboard for the gymnasium
Purchase of a new zero-turn riding mower for the stadium
Backstop netting for use during field hockey, soccer and lacrosse matches
Long jump pit, discus, and shot put pad for track and field
Falcons in the News
Sickeri named new head football coach
May 1, 2018

The Poolesville High School Athletic Department and Administration proudly announces the naming of our new head football coach, Justin Sickeri.
Coach Sickeri, currently the academic intervention coordinator and lead college and career prep teacher at Northwest High School, has been with the NHS coaching staff for the last six seasons serving as offensive coordinator, and junior varsity head coach for one year… Press Release
NCAA Division II and III senior signing ceremony
May 1, 2018
The Poolesville High School Athletic Department held their 2017-2018 NCAA Division II and III signing ceremony for 14 senior student-athletes to their selected college or university. Congratulations to all!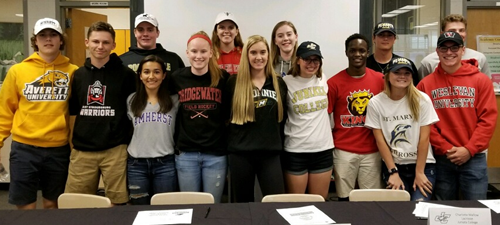 Glenn Mandere
King's College
Connell Oberman
Wesleyan University
Zach Zeranski
Carnegie Mellon University
Charlie Brill
East Stroudsburg University
Juanita Jarmillo
Amherst College
Madeline Thompson
McDaniel College
Erin Green
Lynchburg College
Sam Garrett
Averett University
Cubby Schmidt
St. Mary's College of Maryland
 Ryan Kasten
Gettysburg College
Brooke Hamm
Bridgewater College
Matthew Convers
St. Mary's College of Maryland
Julia Hobbs
Christopher Newport University
Charlotte Mallow
Juniata College
From the college ranks …


Baker named MAC Commonwealth co-champion/co-player of the year
HoodAthletics.com – April 30, 2018
Hood College's Andy Baker (PHS Class of 2014) shot an 83 in the final round of the Middle Atlantic Conference Commonwealth Championships at the Hershey Country Club East Course tying Alvernia's Keith Noonan who finished with an 81 in the second round, putting him into a tie with Baker who shot 74-83-157.