Welcome Back!
The Poolesville High School Booster Club is an organization whose primary mission is to raise money to support and supplement the athletic program at PHS. Our student-athletes have responded by representing their school in an extraordinary manner — with class, sportsmanship, and effort.
As the county school budget continues to tighten, the athletic department is left more and more to fend for itself. Without the continuing support of the Booster Club, much of the team equipment and facilities improvements could not be done … read more
Booster Club Meeting Schedule

Mark your calendar for the next Booster Club quarterly meeting that will be held via ZOOM, or use one of the following methods. Phone One-Tap: +13017158592,,86872437681# or +16465588656,,86872437681# or by telephone at 301-715-8592 or 646-558-8656 using the meeting ID 868 7243 7681 and passcode 129032.
Upcoming Meetings
TO BE ANNOUNCED
Falcons in the News
Tennis Captures Class 2A State Title
May 28, 2022

History was made today as the PHS Tennis Team captured three individual state titles en route to winning the first team state title in PHS history! Poolesville finished with 58 points overall, 10 more than runner-up C. Milton Wright's 48. Information regarding the regional and state tournaments can be found here. The completed state brackets can be found here.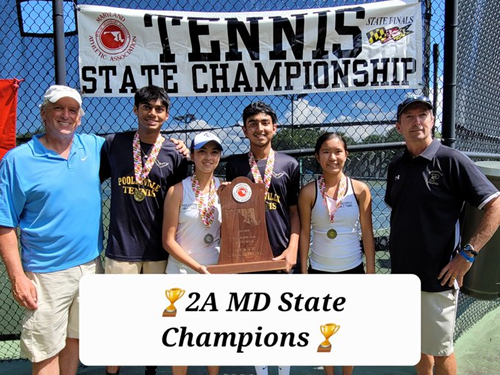 Girls' Singles – Championship Match
Ruhika Bhat played outstanding tennis from the start and knocked off last year's state 3A runner-up 6-2, 6-1.
Boys' Singles – Championship Match
Rohan Bhat, in a dazzling display of tennis, dominated the two-time defending state champion 6-1,6-0.
Girls' Doubles – Championship Match
After splitting the first two games of the match Angie Zhao and Suzy Xu kicked it into high gear by winning 11 of the last 12 games to complete a 6-2, 6-0 victory.
Mixed Doubles – Championship Match
Kyra McGlinchey and Varun Das played extremely well against the defending 2A Mixed Doubles champions but came up short in a very challenging 3-6, 1-6 loss.
All individual champions (gold) and finalists (silver) received individual medals for their performances. In addition, all individuals who competed throughout the region & state tournament received individual medals (gold) for winning the team championship. Finally, the team received a state championship plaque for winning the team title.
Congratulations to all!
Antonishik, Simons Earn Scholarship Awards
May 26, 2022

Each year the Poolesville High School Booster Club awards $1,000.00 scholarships to two deserving student-athletes in memory of PHS alumnus and Booster Club president, Jake Perkins. Recipients are chosen based on their community involvement, school commitment, athletic involvement, and scholarship. Congratulations to this year's Jake Perkins Memorial Scholarship recipients, Abby Antonishik and Caroline Simons.
| | |
| --- | --- |
| Abby Antonishik | Caroline Simons |
Falcons Netters Take Region Titles
May 19-20, 2022

On Thursday, the girl's doubles team of Angelina Zhao and Suzanne Xu posted a 6-0 record over three matches today at the Class 2A West Regional at Middletown High School.
On Friday, both the boy's and the girl's teams claimed region titles led by senior Rohan Bhat and sister Ruhika, with a championship final singles win, along with Kyra McGlinchey and Varun Das in mixed doubles to advance to the state quarterfinals and semifinals on May 26, 9:00 am at Wilde Lake Tennis Center.