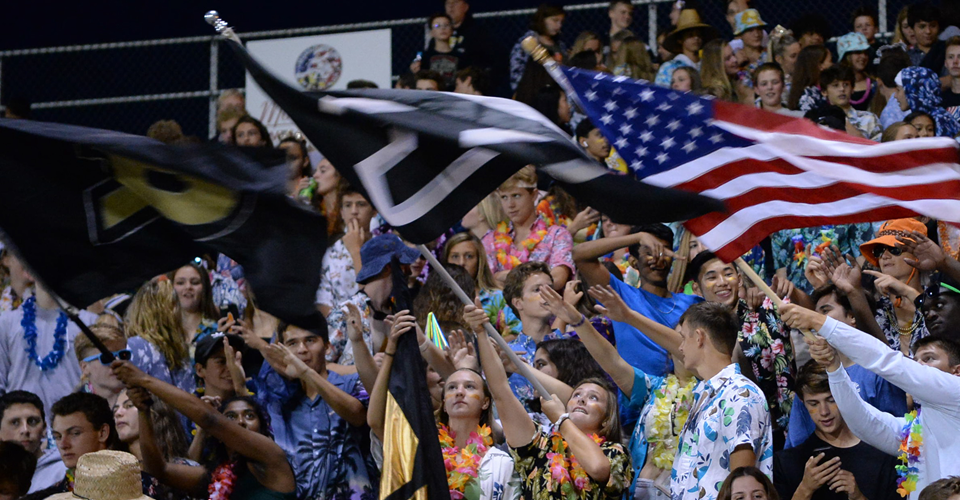 Welcome Back!
The Poolesville High School Athletic Booster Club is an organization whose primary mission is to raise money to support and supplement the athletic program at PHS. Our student-athletes have responded by representing their school in an extraordinary manner — with class, sportsmanship, and effort.
As the county school budget continues to tighten, the athletic department is left more and more to fend for itself. Without the continuing support of the Athletic Booster Club, much of the team equipment and facilities improvements could not be done … read more
Booster Club Meeting Schedule

Mark your calendar for the next Booster Club quarterly meeting that will be held via Zoom, or use one of the following methods. Phone One-Tap: +13017158592,,86872437681# or +16465588656,,86872437681# or by telephone at 301-715-8592 or 646-558-8656 using the meeting ID 868 7243 7681 and passcode 129032.
Thursday, December 9, 2021, at 7:00pm
Thursday, March 10, 2022, at 7:00pm
Thursday, June 9, 2022, at 7:00pm
MCPS Return to R.A.I.S.E. Update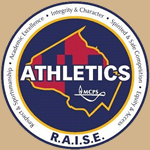 Please refer to the November 12 communication for the latest updates regarding MCPS Athletics. A Spanish version is also available. The updated Return to R.A.I.S.E. Plan is here. This week's announcement includes:
Updated Guidance for Masks/Face Coverings Indoors
Face coverings are not required indoors for student-athletes actively participating in activities, practices, and contests; however, students who are not fully vaccinated (with approved medical exemptions) are strongly encouraged to wear face coverings. During competitions, face coverings are not required for coaches and officials who are fully vaccinated. All other individuals, including managers, event staff, and spectators, are required to wear a face-covering at all times indoors. All participants shall bring their own mask/face covering; extra masks are available at all activities.
Updated Quarantine Guidance
In alignment with MCPS procedures and protocols – note that operations and processes remain fundamentally the same for MCPS Athletics. However, a vaccination survey is no longer required beginning with the winter season, as vaccination information has been collected and available in Synergy.
Other Updates Include
Vaccination Reminders & FAQs
Winter Sports Registration
Testing in Schools Reminders
Falcons in the News
Boys Take Team, Dastrup Earns Individual State Titles
November 13, 2021

After taking region titles last week, the Falcon boys and sophomore Daisy Dastrup took the top spots at the Class 2A Cross Country State Championships at Hereford.
The boys easily distanced the field, 39-102 over second-place Liberty, with four Falcons placing in the top-10 including Billie Beane (3rd place), Caleb Dastrup (5th), Dylan Derewonko (7th), and Aaron Longbrake (10th) for their first state crown since 1966.
Dastrup's first-place time of 19:40.1 was six seconds better than Hereford's Estelle Snider, followed by a tenacious Anna Bodmer (11th), Caroline Simmons (22nd), and Ava Wagner (27th) for the girls who finished third as a team.
The Falcons also picked up the state Sportsmanship Award.


Dastrup Earns 2A West Title; Boys Take Team Championship
November 4, 2021

Sophomore Daisy Dastrup took the top spot with a time of 20:11.72 at today's Class 2A West Cross Country regional at Liberty High School. Junior Anna Bodmer finished fourth. The girls finished fourth as a team.
For the boys, junior Caleb Dastrup finished third (17:11.67) along with William Beane (fifth place), Dylan Derewonko (sixth place), and Aaron Longbrake (8th place) leading to Falcons to a 38-106 win over second-place Liberty.
Both boys and girls teams move on to the Maryland state championships on November 13.
Golfers Swing a Pair of State Titles
October 27, 2021

The Falcon golf team of sophomore Olivia Cong, freshman Noah Naing, and seniors Charlie Helfert and Robert Xu captured the Maryland Class 2A/1A state team title shooting a final round 339 and a two-day total of 669, 12 strokes ahead of runner-up Boonsboro. Individually,
Cong picked up the girl's individual title finishing at 144 – four strokes better than La Plata's Shelby Herbert, while Falcon sophomore Kinley Stokes finished fifth overall at 168.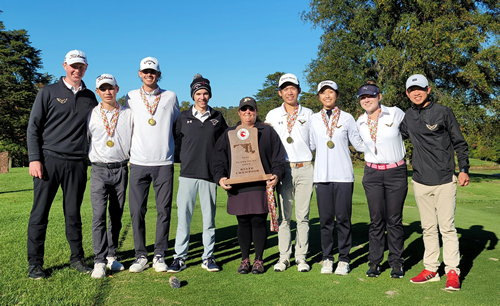 Lady Falcons Claim Division Soccer Crown
October 20, 2021
Coach Rod Nubgaard's girls completed the regular season with a 6-0 win over Gaithersburg and a 10-2 record, including nine clean sheets (shutouts), taking the MCPS Class 3A/2A division title. Read more about their outstanding season on page 14 of the Monocacy Monocle.
Golfers Capture Class 2A/1A District Title
October 4, 2021
Congratulation to our coed golf team of Olivia Cong (72), Robert Xu (82), Charlie Helfert (84), Noah Naing (84), and Ethan Huang (88) who captured the MPSSAA Class 2A/1A division title today at Poolesville Golf Course.