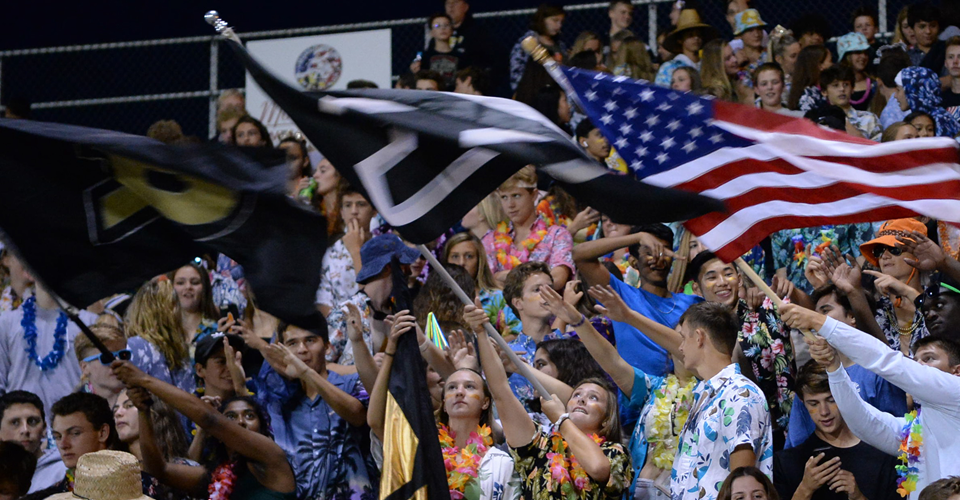 Welcome
The Poolesville High School Athletic Booster Club is an organization whose primary mission is to raise money to support and supplement the athletic program at PHS. Our student-athletes have responded by representing their school in an extraordinary manner — with class, sportsmanship, and effort.
As the county school budget continues to tighten, the athletic department is left more and more to fend for itself. Without the continuing support of the Athletic Booster Club, much of the team equipment and facilities improvements could not be done.
Some recent improvements to the athletic facilities include:
Upgrades to the baseball and softball fields including new batting cages and bleachers
Ongoing seasonal turf maintenance of the stadium playing surface and practice fields
Purchase of a state-of-the-art scorers table with an electronic scoreboard for the gymnasium
Purchase of a new zero-turn riding mower for the stadium
Backstop netting for use during field hockey, soccer, and lacrosse matches
Long jump pit, discus, and shot put pad for track and field
Falcons in the News
MCPS Interscholastic Sports Update
January 12, 2021
Today, the Board of Education voted to delay the start of returning small groups of students for in-person instruction from February 1, 2021, to March 15, 2021, on the condition that health metrics are met or health guidance is adjusted as a result of vaccine distribution. The announcement also stated that MCPS is continuing to plan for the fall sports season and will provide updates regarding interscholastic athletics and extracurricular activities in the coming weeks.
MCPS Athletics has received approval to continue planning for the fall season for high school sports, which is still scheduled to begin February 13, 2021, per the MPSSAA calendar. Any activities and engagement will be subject to health metrics and approval from appropriate entities and may begin virtually.  More detailed information, including registration and logistics, will be provided in the coming weeks. We will be meeting with coaches and stakeholders this week and in advance of the season and provide ongoing communication moving forward as we transition to the second semester.
Finally, the Board also approved an extension of the suspension of the academic eligibility policy through the second semester of this school year. This allows all students to be academically eligible for athletics (and other extracurricular activities) for the remainder of the school year and the first marking period of the 2021-2022 school year.
We know the cancellation of the winter competition season is devastating for student-athletes, coaches, and stakeholders across MCPS. However, we continue to be inspired by the resiliency of our student-athletes, coaches, and families during these challenging times. While these decisions and actions come with great frustration and disappointment, the safety of our students, staff members, stakeholders, and communities remains our utmost priority. We are committed to returning to in-person activities and engagement and look forward to the return of our student-athletes and coaches when health metrics allow.
Class of 2021 Athletic Scholarship Opportunity
January 8, 2021
Now is the time to apply for the National Interscholastic Athletic Administrators Association (NIAAA) Scholarship. Click here to download the application.
Minimum Requirements
Applicant must be a senior in high school
Applicant must have achieved at least one (1) of the following: (a.) minimum of B+ average; (b.) ranked in the top 25% of class; (c.) ACT score of 24 or an SAT score of 1100 (Math and Reading)
Applicant must have participated in two sports for at least two years in each sport
Applicant must have earned at least one varsity letter in each of two sports
Applicant must complete the attached scholar/essay application
Applicant must have a letter of recommendation from the high school athletic administrator/director
School athletic administrator/director must be an NIAAA member and a member of their respective state athletic administrators association
The principal or athletic administrator/director must sign the application to ensure that the academic information submitted is accurate
All hard copy materials must be postmarked, or electronic materials sent to the NIAAA Liaison in your respective state by your state's deadline
Scholarship Timeline
Applications postmarked to NIAAA liaison in the respective state by the state's deadline
Maryland Applications are due NO LATER than 2/22/2021 to cmsatterwhite@verizon.net
Each state must select a male and female winner prior to its NIAAA Section meeting
April-June: Each section selects it's male and female winner
July: NIAAA Board selects the male and female national winner
August: National winners notified by NIAAA office
December: National winners and their parents are invited to attend the national conference to be recognized and present their essay
PHS and MCPS Coaching Opportunities
November 10, 2020
Interested in coaching in MCPS? The MCPS Athletics Promotions and Social Media Committee has created a link to show all the coaching vacancies at Poolesville High School, as well as around MCPS.
The link includes:
Current openings
A link on how to apply
A link to the MCPS Athletics website
A link to each of the MCPS high school Athletics websites
Job descriptions for each job
Stipend pay list for each job
How to become an official for MPSSAA
If you are interested in a position within Poolesville HS, please click on the link about how to apply or email our Athletic Specialist (AD), Ms. Regina Grubb at Regina_R_Grubb@mcpsmd.org. If you are interested in a position within MCPS, please click on the link about how to apply or email the school's Athletic Specialist (AD).
Promoting a Positive Culture
Montgomery County Public Schools (MCPS) is dedicated to promoting a positive culture in our schools, on our athletic teams, and in our community. The following are some resources compiled for the numerous stakeholders committed to providing students with a safe, positive environment in which to learn, grow, and progress.