Welcome
The Poolesville High School Athletic Booster Club is an organization whose primary mission is to raise money to support and supplement the athletic program at PHS. Our student athletes have responded by representing their school in an extraordinary manner — with class, sportsmanship and effort. As the county school budget continues to tighten, the athletic department is left more and more to fend for itself. Without the assistance of the Athletic Booster Club, much of the team equipment and facilities improvements could not be done.
Some recent improvements to the athletic facilities include:
Upgrades to the baseball and softball fields including new batting cages and bleachers
Improvements to the stadium entrance and concessions stand
Ongoing seasonal turf maintenance to the stadium playing surface and practice fields
Purchase of a state-of-the-art scorers table with electronic scoreboard for the gymnasium
Purchase of a new zero-turn riding mower for the stadium
Backstop netting for use during field hockey, soccer and lacrosse matches
Long jump pit, discus, and shot put pad for track and field
Falcons in the News
Two Earn Fall All-Met Honors
December 13, 2017

Senior Ryan Lockett and junior Nandini Satsangi were both named to the Washington Post All-Met cross country teams. Lockett, a first team pick, finished the season as the Montgomery County champion and the Maryland Class 2A West region and 2A state champion. Satsangi, an honorable mention pick, placed third at the MCPS Championships and was the Maryland Class 2A West region champ.
Junior Soars With Fellow Falcons at Magruder Mad Mats Tournament
Montgomery Sentinel – December 13, 2017
Poolesville junior Kieran Barney finished with a record of 8-15 last year and the 182-pounder began this, his third-ever season of wrestling, on his back. Barney was pinned in 3:34 by Sherwood's sophomore county and regional fourth-place finisher Adam Pfeiffer during a 38-37 dual meet victory by the Falcons on Dec. 6, and was itching to redeem himself in last Saturday's Mad Mats Tournament at Magruder … read more
State Championship Banner Arrives
December 7, 2017

The banner marking the Falcons 2017 Maryland Class 3A baseball state championship win over Chesapeake (Anne Arundel) is here. Players pictured below are: (front row) Jimmy Dutton and Brady Pearre, and (back row) Ryan Kasten, Ryan Haddaway, Matt Convers, and Colin Metz.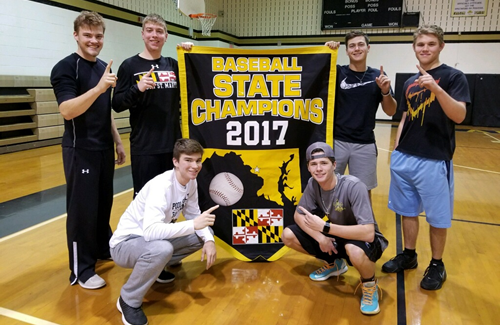 From the College Ranks …
December 6, 2017


Alyssa Nubgaard (Class of 2014) ended her senior season for Hood College as the Blazers number three all-time in assists and number four in points. In addition she made MAC Fall Academic Honor Roll in 2015 and 2016 … Catholic University junior Brian Galfond (Class of 2015) has been selected to the College Sports Information Directors of America (CoSIDA) Academic All-America Third Team for his successes on the soccer field and in the classroom.
Join the PHS Athletic Booster Club
The key to the Athletic Booster Club's continued success is the generosity and involvement of the parents of every athletic participant at Poolesville High School. So please volunteer and contribute as much as you can.