Welcome
The Poolesville High School Athletic Booster Club is an organization whose primary mission is to raise money to support and supplement the athletic program at PHS. Our student athletes have responded by representing their school in an extraordinary manner — with class, sportsmanship and effort.
As the county school budget continues to tighten, the athletic department is left more and more to fend for itself. Without the continuing support of the Athletic Booster Club, much of the team equipment and facilities improvements could not be done.
Some recent improvements to the athletic facilities include:
Upgrades to the baseball and softball fields including new batting cages and bleachers
Ongoing seasonal turf maintenance of the stadium playing surface and practice fields
Purchase of a state-of-the-art scorers table with electronic scoreboard for the gymnasium
Purchase of a new zero-turn riding mower for the stadium
Backstop netting for use during field hockey, soccer and lacrosse matches
Long jump pit, discus, and shot put pad for track and field
Falcons in the News
Carbonell wins state wrestling title
March 2, 2019

At the Maryland Class 2A/1A State Wrestling Championships in Upper Marlboro, senior Alex Carbonell defeated Loch Raven's Marquis Kemp with a 1-0 decision in the championship final of the 120 pound weight class. Carbonell, the Falcon's all-time wins leader, completes his career at PHS with 172 wins and becomes PHS' second wrestling state title holder along with Bo Pierce (1984).
Two other Falcons placed at states including Xavier Kresslein (3rd place at 170 pounds) and Kevin Fultz (5th place at 132 pounds).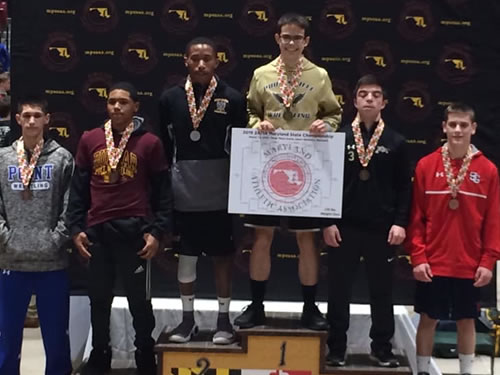 Swim/Dive continue winning ways with pair of state titles
February 23, 2019

Both Falcon boys and girls teams placed first at today's Maryland Class 3A/2A/1A championships at the University of Maryland. This is the boys' eighth consecutive state title (317-242 over second place Damascus) and sixth title – fifth in a row – for the girls (342-281 over second place Damascus).
Individual state champions for PHS were the Boys 200 Medley Relay (Jonathan Ye, Justin Yi, Maxwell Chen, Kenny Song), the Girls 200 Medley Relay (Moshelle Borjigin, Helena Narisu, Sophia Elliott, Miranda Liu), Moshelle Borjigin (200 & 500 Freestyle), Maxwell Chen (200 Individual Medley), and Autumn Wang (100 Backstroke).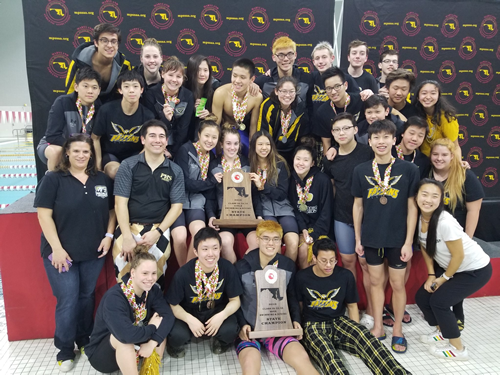 Falcon girls capture second straight MCPS division title
February 22, 2019

Seniors Alli Haddaway (seven FGs, 14 points) and Sarah Mullikin (three FGs, two 3pt FGs, 1-2 from the line, 13 points) led the Falcons to another MCPS 3A/2A division title with a 53-39 win over Damascus, avenging a three-point loss to the Hornets in January. Poolesville (18-4 overall, 7-1 in Montgomery 3A/2A) will play the Seneca Valley-Damascus winner in the second round of the Class 2A West sectional on March 5 at PHS … read more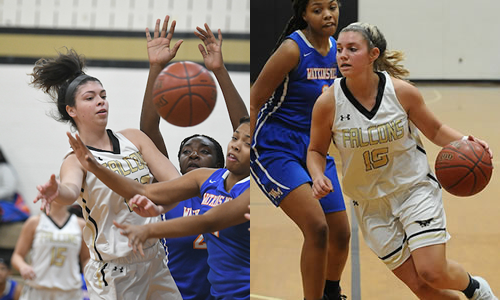 Promoting a Positive Culture
Montgomery County Public Schools (MCPS) is dedicated to promoting a positive culture in our schools, on our athletic teams and in our community. The following are some resources compiled for the numerous stakeholders committed to providing our students with a safe, positive environment to learn, grow and progress in.