Welcome
The Poolesville High School Athletic Booster Club is an organization whose primary mission is to raise money to suptort and supplement the athletic program at PHS. Our student athletes have responded by representing their school in an extraordinary manner — with class, sportsmanship and effort.
As the county school budget continues to tighten, the athletic department is left more and more to fend for itself. Without the continuing support of the Athletic Booster Club, much of the team equipment and facilities improvements could not be done.
Some recent improvements to the athletic facilities include:
Upgrades to the baseball and softball fields including new batting cages and bleachers
Ongoing seasonal turf maintenance of the stadium playing surface and practice fields
Purchase of a state-of-the-art scorers table with electronic scoreboard for the gymnasium
Purchase of a new zero-turn riding mower for the stadium
Backstop netting for use during field hockey, soccer and lacrosse matches
Long jump pit, discus, and shot put pad for track and field
Promoting a Positive Culture
Montgomery County Public Schools (MCPS) is dedicated to promoting a positive culture in our schools, on our athletic teams and in our community. The following are some resources compiled for the numerous stakeholders committed to providing our students with a safe, positive environment to learn, grow and progress in.
Falcons in the News
Poms cap season with second straight county title
February 2, 2019

Defending their win in 2018, the Falcon Pom squad took home the top spot today at the 23rd Annual MCPS Division I Pom Competition at Blair beating runner-up Sherwood and Damascus who finished third. Tiara Ventura won the Captain's Award for PHS.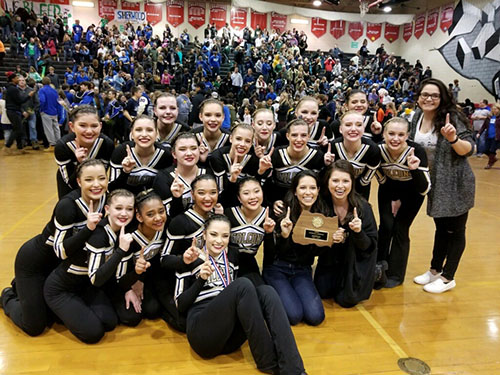 Poolesville pushes past Seneca Valley, 66-40
Montgomery Sentinel – January 19, 2019

The Poolesville varsity girls' basketball team continued its push toward the playoffs on Jan. 19 when the Lady Falcons defeated the Seneca Valley Screamin' Eagles by a score of 66-40 on Seneca Valley's home court, the David A. Young Gymnasium … read more
Falcons' freshman, 'Fantastic Five' rescue Poolesville in tiebreaker-criteria victory over Northwest
Montgomery Sentinel – January 16, 2019
Poolesville earned a non-divisional victory via criteria over visiting Northwest after the match ended in a 36-36 tie on January 16. "It was 36-36 after the 113 match ended, and each of us [both teams] had seven wins, so it came down to the technical fall criteria," said coach Tim Tao, whose Falcons improved to 6-2 … read more
Satsangi a double winner at county championships
January 16, 2019
Senior Nandini Satsangi took home a pair of distance titles at today's MCPS Indoor Track and Field Championships at the PG SportsPlex including the 1600 meters in 5:12.32 and the 3200 meters in 11:17.26. Nandini, a two-time Washington Post All-Met Cross County pick, moves on to the Class 2A West Regional on February 2 at Hagerstown Community College where she is the defending champion in both events.